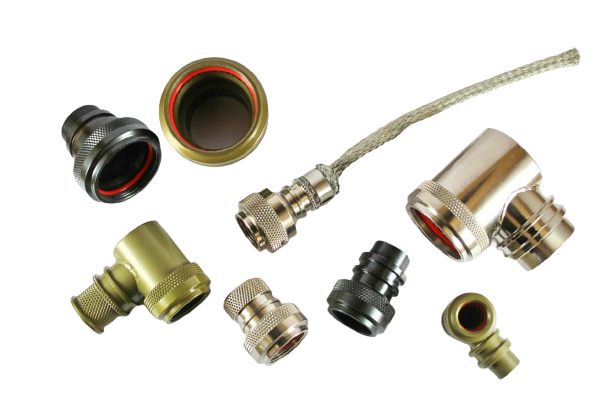 Turbo (TICS) specialize in the precision manufacture and supply of connector backshells, protective covers and related accessories for Military, Aerospace and Industrial applications.
As well as providing standard backshells for 5015, 26482 and D38999 style connectors, they are able to create custom solutions for many other styles and applications.
Together with REC's expertise we can provide the perfect backshell solution for you, whether it's a new design or a replacement of an existing manufacturer such as Glenair, Polamco, Amphenol or any other.
Please see some examples below. These are available with direct coupling (one piece) or spin coupling designs, with the option of self-locking (detented or non-detended).
MATERIALS AND FINISHES
Cadmium olive drab
Electroless nickel
Black zinc nickel
Black zinc cobalt
Green zinc cobalt
Black anodized
STANDARD STYLES
21 – banding adapter
31 – memory ring adapter
41 – O ring sealed heat shrink boot adapter
51 –  shield sock boot adapter
61 – EMI/RFI lamb base thread adpater
110-01 – submersible cable clamp
and more!
CONNECTOR INTERFACES
MIL-DTL-38999 SERIES III & IV
MIL-DTL-38999 SERIES I & II
MIL-DTL-26482 SERIES II
AS 50151 CRIMP
MIL-DTL-83723 SERIES I & III