48 HOUR ASSEMBLY FROM STOCK!
DDK D/MS
SERIES CONNECTORS
Fujikura DDK D/MS series circular connectors (MIL-DTL-5015 compatible).
Assembly in 48 hours!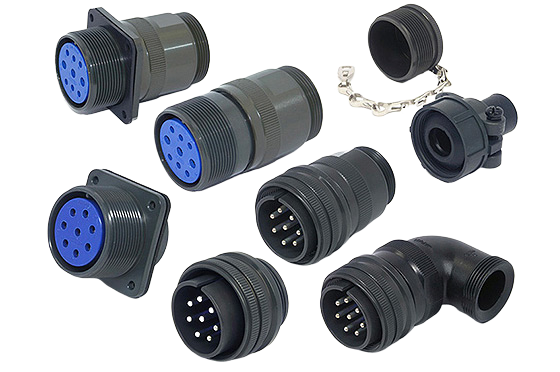 DDK D/MS series connectors
DDK D/MS series connectors are 5015 threaded connectors are compatible and intermateable with miltary standard and commerical 5015 threaded connectors.
The inserts contain barriers between each contact, to extend the creepage distance which improves the dielectric withstanding voltage.
REC's component stock is black RoHS plating as standard, but green olive drab is available on request.
CONTACT TERMINATION: solder or crimp
MATING STYLE: threaded
MIL EQUIVALENT: MS310
Number of
Insert Number
Alternate Insert Key
Contact
W
X
Y
Z
1
20-2
̶
̶
̶
̶
10SL-4
̶
̶
̶
̶
2
12S-3
70°
145°
215°
290°
14S-9
70°
145°
215°
290°
20-23
35°
110°
250°
325°
32-5
35°
110°
250°
325°
10SL-3
̶
̶
̶
̶
14S-1
̶
̶
̶
̶
14S-7
90°
180°
270°
̶
3
16S-5
70°
145°
215°
290°
16-10
90°
180°
270°
̶
18-5
80°
110°
250°
280°
18-21
̶
̶
̶
̶
18-22
70°
145°
215°
290°
22-2
70°
145°
215°
290°
28-6
70°
145°
215°
290°
36-4
70°
145°
215°
290°
14S-2
̶
120°
240°
̶
18-4
35°
110°
250°
325°
4
18-10
̶
120°
240°
̶
20-4
45°
110°
250°
̶
22-10
35°
120°
250°
325°
22-22
̶
110°
250°
̶
24-22
45°
110°
250°
̶
32-17
45°
110°
250°
̶
36-5
̶
120°
240°
̶
14S-5
̶
110°
̶
̶
5
16S-8
̶
170°
265°
̶
18-11
̶
170°
265°
̶
18-20
90°
180°
270°
̶
32-1
80°
110°
250°
280°
32-2
70°
145°
215°
290°
14S-6
̶
̶
̶
̶
6
18-12
80°
̶
̶
280°
20-17
90°
180°
270°
̶
20-22
80°
̶
̶
280°
36-3
70°
145°
215°
290°
16S-1
80°
̶
̶
280°
7
20-15
80°
̶
̶
280°
22-28
80°
̶
̶
280°
24-2
80°
̶
̶
280°
24-10
80°
̶
̶
280°
28-10
80°
110°
250°
280°
18-8
70°
̶
̶
290°
8
20-7
80°
110°
250°
280°
22-23
35°
̶
̶
̶
20-16
80°
110°
250°
280°
9
20-18
35°
110°
250°
325°
24-11
35°
110°
250°
325°
10
18-1
70°
145°
215°
290°
18-19
̶
120°
240°
̶
11
24-20
80°
110°
250°
280°
20-27
35°
110°
250°
325°
14
22-19
80°
110°
250°
280°
28-20
80°
110°
250°
280°
32-9
80°
110°
250°
280°
16
24-5
80°
110°
250°
280°
24-7
80°
110°
250°
280°
17
20-29
80°
̶
̶
280°
19
22-14
80°
110°
250°
280°
20
28-16
80°
110°
250°
280°
22
28-11
80°
110°
250°
280°
24
24-28
80°
110°
250°
280°
26
28-12
90°
180°
270°
̶
30
32-8
80°
125°
235°
280°
31
36-9
80°
125°
235°
280°
35
28-15
80°
110°
250°
280°
32-7
80°
125°
235°
280°
37
28-21
80°
110°
250°
280°
48
36-10
80°
125°
235°
280°
52
32-414
80°
110°
250°
280°
54
32A-10
̶
̶
̶
̶
73
36-73
80°
110°
250°
280°