R.E.C. BRANDED
R.E.C. RK 18-10 connector
A connector that has been specialised for industrial applications. It is waterproof, and uses first-mate, last-break technology for extra safety. You have the choice to use the shell straight or it can be adjusted to a 90 degree angle.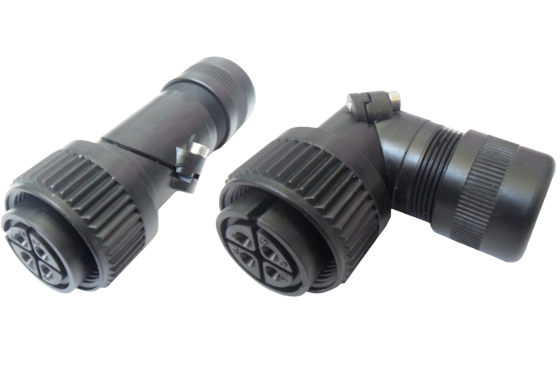 R.E.C. RK 18-10 connectors are based on the MIL-C-5015 style and have the following features:
– Conformity with MIL-C-5015 standards and can be mated with conventional MS connectors
– Sequence Structure with Protective Circuitry (First-mate, Last-break contact design)
– Water/oil/dustproof Structure: Class IP67 Protection
– Anti-rotating / fixing position when mated
– Solder or crimp contacts
– RoHS platings available
Once connected, full protection is provided against ingression of water droplets, cutting fluid or dust particles. Use of a synthetic rubber insert ensures protection against water and dust even in the unmated state (this applies to the receptacle with pin contacts.)
R.E.C. RK 18-10 connectors fully conform with the following European safety standards:
– EN60204-1 (electric machinery parts)
– UL 94V0 rigid plastic insert
ONLY ONE CONNECTOR NEEDED FOR STRAIGHT AND RIGHT ANGLE USAGE

Connectors are provided with a pre-mating grounding contact which has conductivity with the connector shell to create a protective circuit. There is the possibility screw an earth lug into the metallic body.
When making connections, the contact of the RK 18-10 connector is connected before the other contacts, and detached last.